"All my pieces are custom made, fusing standard techniques both modern and old, and carefully considering the grain in each board I use"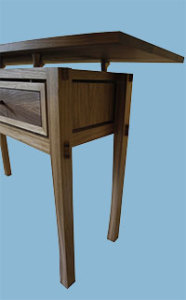 Inspired by the landscape around him and the craftsmen and local artists he grew up with throughout his life, Garry Marcham now produces, crafts,  and makes fine vernacular furniture to commission at the Goose Island Workshop in the heart of the Kerry country side. A devotee of the Arts and Crafts movement, Garry brings a fresh look to the world of vernacular Irish furniture.
Garry's life of working with trees and wood is the foundation of his work today. He takes inspiration from careful observation into how things grow; how stresses and loads are dealt with in nature and this approach has led to some of his finest work.
Goose Island Workshop offers three concepts in contemporary furniture: an Artisan, Signature and Legacy range.
The workshop first emerged as a need to provide bespoke joinery and furniture for Garry's own house. Nowadays it's a fully functioning design and making studio creating furniture that ranges from traditional chairs, dressers and tables, to his very contemporary designs in furniture.
A master craftsman in the Windsor chair discipline, Garry hand crafts  three ranges using a very unique style of making which combines green wood working techniques from the past, with more modern ways of working with wood. This allows the workshop a huge field of options when resolving design issues. This approach has also led to a firmly identifiable look to Garry's work.
The resourcefulness of the workshop is very important to Goose Island Workshop. Garry feels strongly that when a tree is taken and used to make a piece of furniture, it then has a new life and a new opportunity for regrowth is provided in the woodland. Trees that are taken down provide Garry with his income. This raw material is at the heart of Garry's life and from which he creates beauty and meaning. This meaning goes well beyond the material value of each piece but lives on in the life of the client. This mantra applies to all the pieces that come out of the workshop!
"I hope my work presents a value beyond function"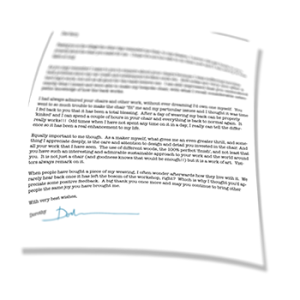 ---
Garry Marcham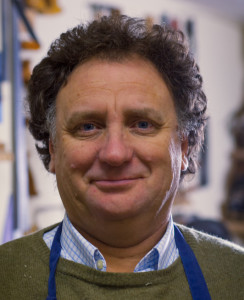 Garry is the driving force behind the workshop and is a designer, a furniture maker arborist and gardener. He is devotee of the Arts and Crafts movement. He believes strongly that well-made, and carefully considered furniture, will enhance the lives of those who choose to live with it. This in turn provides the livelihood of the craftsman that Garry is, and he in turn, through his need for the raw material, provides the life for the woodland through maintenance and planting.
Garry grew up living very close to a small coppice near Tilehurst in Berkshire. As a young boy he began to wonder why, when it showed all the signs of a very productive rural past, the coppice had been abandoned. He has striven throughout his life to shed light on the need for land owners to carry on the tradition of woodland management.